MOBILE APP
The Voice Report mobile application allows users to dictate reports when driving from one meeting to another; or during their break or on their way back home. The mobile app is available on Android and iPhone.
DICTATE FROM MOBILE APP
Voice Report native mobile app is an easy-to-use app that allows you to speak and create reports using auto transcription.
APP SECURITY
Our native iOS and Android apps with military-grade encryption allow you to securely dictate and view transcripts while on the go.
CAPTURE PHOTO
Why dictate a thousand words when you can send a picture? With the Voice Report mobile application, you can take photos and include them as part of the final report.
CUSTOMIZABLE WORKFLOW
Whether you want to manage approvals, transcription assignment or transcription priority, Voice Report ensures that each step of your important process happens in the right order, every single time.
WORKFLOW AUTOMATION
Take control of your workday with Voice Report. Our fully customizable workflow engine supports your organization's unique business processes and documentation requirements.
CUSTOM FORM FIELDS
The Custom Forms display only the relevant fields depending upon the business workflow.
CUSTOM WORDS
The Voice Report application has a predefined vocabulary of more than 300,000 words.
Expand the vocabulary at any time with custom words specific to your company, industry or commonly used abbreviations.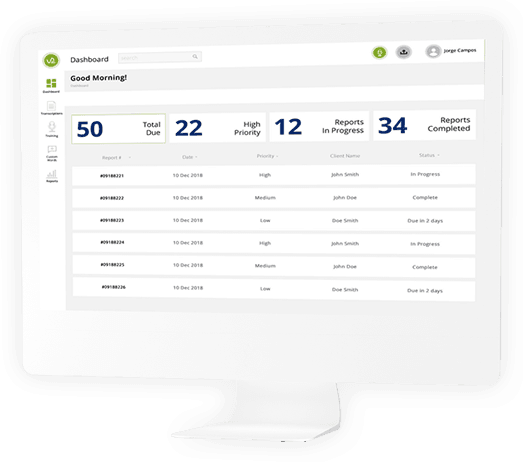 CORRECTION v/s TRANSCRIPTION
Every dictations is processed through industry-leading speech recognition software, Voice Report to minimize human error and shorten turnaround time from days to hours.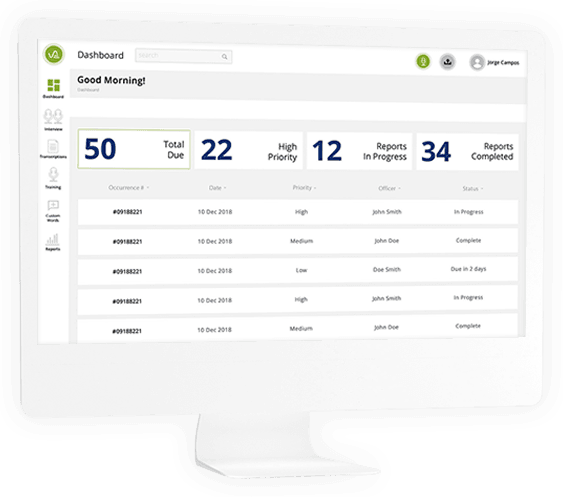 AUTOMATIC TRANSCRIPTION
Gone are the days when the transcriptionist had to type every dictated word. With Voice Report's high accuracy speech-to-text engine and powerful portal tools, your team just needs to review the report while we take care of the transcription. Imagine what your organization can accomplish with all that extra time!
WORD HIGHLIGHT AUDIO PLAYER
Voice Report automatically highlights the words as the audio plays. Found an error? Just click on the word to pause the audio while you make the correction. The audio stops while correcting. Resume the Audio Player at any point in the document by double-clicking the next word. Red highlights indicate transcribed words with lower transcription confidence.
CRITICAL FIRST
Set the priority of dictations based on urgency. Voice Report transcribes high priority dictations first and alerts the reviewer.
THIRD-PARTY API INTEGRATION
Voice Report can work with any of your existing system in existing infrastructure or with a new implementation. We provide powerful API's that helps deliver seamless integration.
EXISTING SOFTWARE
Our advanced and fully documented API allows you to integrate virtually every feature of Voice Report with your CRM, ERP, RMS, or any existing application.
THIRD-PARTY SOFTWARE
Voice Report provides integration with third-party software which helps organizations get the most out of IT investments and enables them to maintain business momentum. All integrations are secure and guarantee high performance and robust productivity.
CUSTOM WORDS
Confidential data on the system is securely encrypted using military grade AES-256 bit encryption. User authentication and multilevel file encryption ensure data stays safe, secure, and confidential.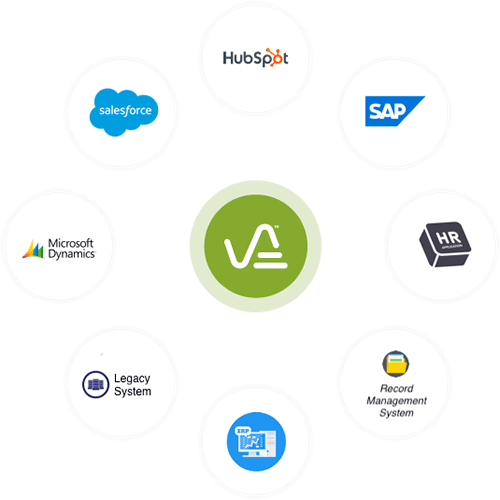 Productivity

Maximize productivity and rapidly improve document turnaround time by employing advanced speech recognition technology.

Integration

Integrate with existing case and data management systems to minimize data entry and ensure streamlined processes.

Work Offline

Flexible recording options and the ability to work online or offline.
Security

Secure transmission of data using multiple level of encryption helps maintains client confidentiality.

On Premise

Flexible acquisition options by means of traditional (on premise) licensing or cloud-based SaaS licensing to meet the needs of your firm.

Analytics

Robust data analysis and the ability to create custom reports.