SPEECH RECOGNITION SOFTWARE
FOR FINANCIAL SERVICES
OPTIMIZE TIME AND RESOURCES
Voice Report amplifies the everyday efficiency of financial professionals, helping them create detailed and accurate reports by dictating from their mobile devices. Improve overall efficiency using Voice Report speech recognition software powered by Dragon Speech Engine, and create detailed financial documents.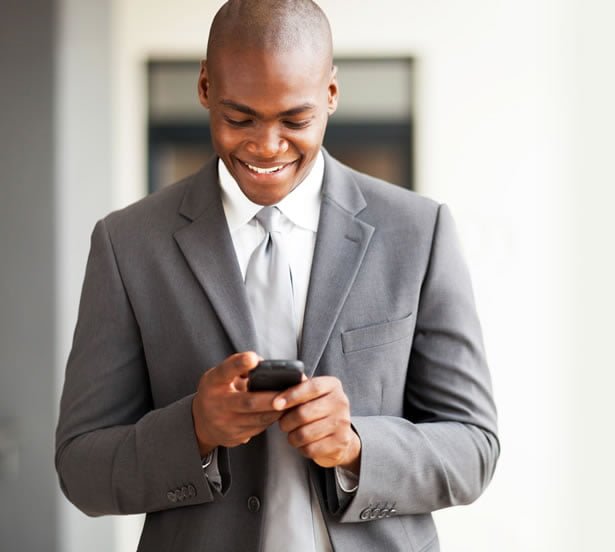 MAXIMIZE PRODUCTIVITY
Get reports done anywhere with the new Voice Report professional-grade speech recognition software. Dictate and edit documents by voice on your mobile device on the go. Streamlining report creation using speech-to-text across the organizations improves service and free up employees for more important and productive tasks.
MOBILE DOCUMENTATION
Voice Report Empowers investment advisors to keep up with documentation demands even when they are away from their desk. Our Speech Recognition Mobile App easily integrates into your mobile documentation workflow, and enable mobile professionals to complete documentation requirements in real-time via iOS and Android smartphones or tablets.
CUSTOM WORDS
With Voice Report you can add custom words for accurate recognition of the financial industry terms, acronyms, or personal preference you use every day. This gives a huge boost in the accuracy and efficiency of your reports, making you more productive.
EASY ENTERPRISE DEPLOYMENT
Our on-premise deployment option and third-party integration ability make it easy to deploy and manage Voice Report – Speech Recognition Software across your organization.
ON-PREMISE DEPLOYMENT 
Voice Report's easy-to-deploy on-premise solution gives you full control over your data and ensures your confidential data never leaves your organization's servers.
THIRD PARTY INTEGRATION
Voice Report provides integration with third-party software which helps organizations get the most out of IT investments and enables them to maintain business momentum. All integrations are secure and guarantee high performance and robust productivity.
EASY ADOPTION
With Voice Report users immediately become voice enabled with no added hardware, our advance speech recognition engine enables the batch processing of recorded audio based on priority from any device at any time.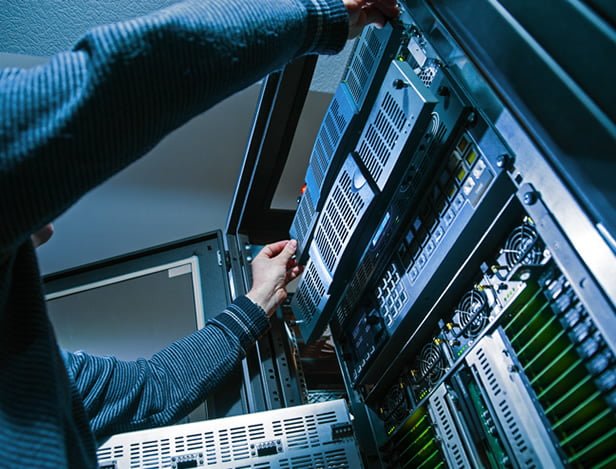 SECURE REST API
Voice Report secure API provides the ability to successfully build and integrate automatic speech recognition software into your existing transcription workflow systems.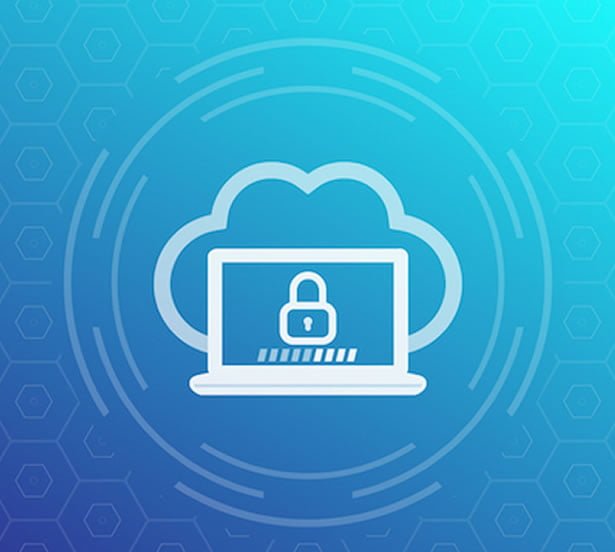 MAINTAIN CURRENT WORKFLOW 
Keep your own existing application interface look, feel, navigation flow consistent along with existing workflow while adding Voice Report speech recognition running in the background.
FAST AND ACCURATE TRANSCRIPTION
Voice Report delivers accurate transcription results by using personal profiles that store specific speaker information and deliver more accurate results the more they use. 
END TO END SECURITY
Our API's are secured by multi-level encryption that provides a comprehensive and flexible framework of prescriptive and scalable security controls to meet requirements and manage risks. 
SECURITY AND RELIABILITY
Voice Report offers customer-focused service and support to meet the organization growth while delivering security and reliability for peace of mind.
OPERATIONAL SIMPLICITY 
Voice Report latest technology with its world-class service and support gives your organization the productivity tools and solutions that ensure continuous growth. 
SCALE AND EXTENSIBILITY
Voice Report offers open, flexible APIs that minimize integration complexity, simplifying the process of connecting to an existing system or any third-party system. 
REPORTING AND ANALYTICS
With automated monitoring and intuitive dashboards, Voice Report help you improve operational efficiency, it also helps to easily evaluate performance, quickly make decisions and effectively communicate across your organization.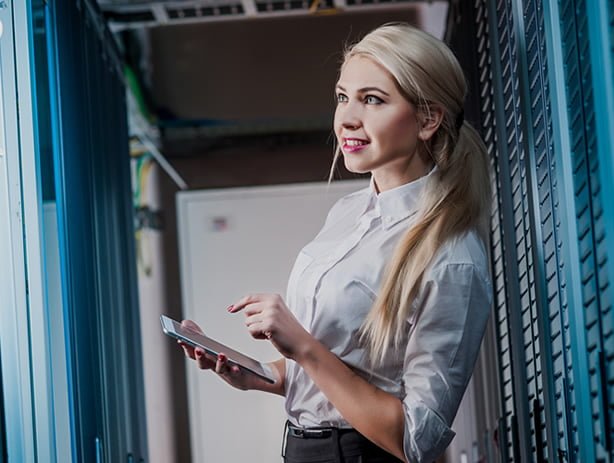 Productivity

Maximize productivity and rapidly improve document turnaround time by employing advanced speech recognition technology.

Integration

Integrate with existing case and data management systems to minimize data entry and ensure streamlined processes.

Work Offline

Flexible recording options and the ability to work online or offline.
Security

Secure transmission of data using multiple level of encryption helps maintains client confidentiality.

On Premise

Flexible acquisition options by means of traditional (on premise) licensing or cloud-based SaaS licensing to meet the needs of your firm.

Analytics

Robust data analysis and the ability to create custom reports.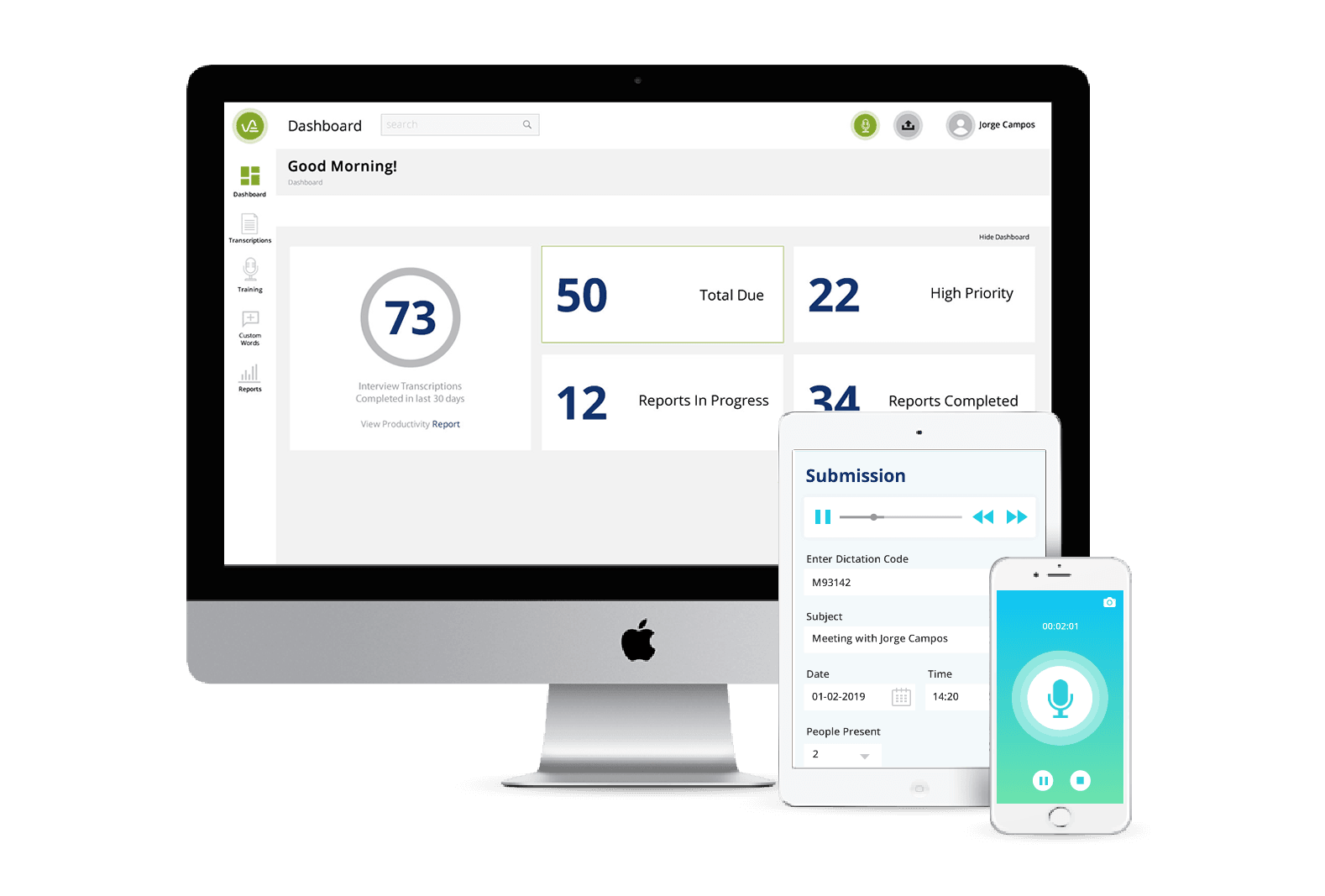 REVIEWS
Increasing productivity for our customers is our primary focus.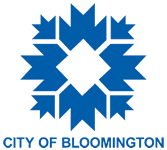 Joan Manning
What an INCREDIBLY IMPRESSIVE system. I really like Voice Report and its features. The support quality has been very amazing.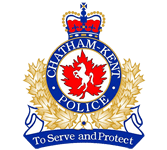 Quentin Sprik
Since incorporating Voice Report our efficiencies have increased tremendously. We used to have backlogs of reports needing to be typed that could stay in the queue for weeks, where today, we have same day reports entered into our records management system.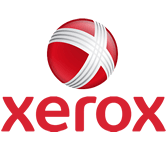 Raj Wadhwa
Having the Voice Report solution in our portfolio has enabled us to solve critical productivity problems.
Transform your Business with Voice Report